Are you curious about the potential of AI to revolutionize your organization? Finchloom is excited to introduce a new Proof of Concept (POC) that allows you to harness the capabilities of OpenAI's chat GPT model within your own Azure environment. This POC is a product of the collaboration between Microsoft and OpenAI and can be seamlessly integrated with your enterprise data to boost knowledge and efficiency.
The highlight of this blog post is Finchloom's unique service offering. This new service enables you to host your own version of the OpenAI model in Azure, providing you with greater control and advantages compared to using public OpenAI models. This POC not only emphasizes our commitment to innovation but also our dedication to providing solutions tailored to your needs.
What is Azure OpenAI?
Azure OpenAI is a service deployed in your Azure subscription, providing a private setting where your data doesn't leave your organization. It's a pre-trained AI model that can be customized to unlock new scenarios with your data.
How Does It Work?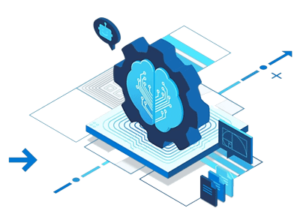 The AI model can reason with your data, complete tasks, and analyze it for certain words or keynotes. It can also provide sentiment reports. The fine-tuning data used to customize the AI model remains yours and is not shared with Microsoft.
Why Host Your Own OpenAI Model in Azure?
With Azure OpenAI, you unlock a plethora of new use cases and applications. It can generate content, create documents based on a sample, or even produce PowerShell scripts or SQL queries.
One crucial aspect to consider is the training of the AI model. When using a public model, your prompts and information could potentially contribute to its training. However, with Azure OpenAI, you have full control over your data and how it's used. This ensures that your proprietary information remains confidential and is not used to train a public model.
Data Privacy and Security
By hosting your own OpenAI model in Azure, you ensure that your data never leaves your organization. This is a significant advantage for businesses concerned about data privacy and security. The model is deployed in your Azure subscription, surrounded by your security measures.
Customization and Control
With your own OpenAI model, you have the freedom to customize and fine-tune the AI according to your specific needs. This level of control allows you to unlock new scenarios with your data, from reasoning and completing tasks to analyzing for certain words or keynotes.
Enterprise-Grade Security
The Azure-hosted OpenAI model comes with enterprise-grade security and role-based access control. It also includes built-in responsible AI mechanisms to detect and mitigate harmful use, ensuring a safe and secure AI experience.
What's Included?
The package we offer is comprehensive and designed to ensure a smooth deployment of Azure OpenAI with ChatGPT in Azure. As part of this package, we're excited to leverage our 3-month FLIGHT agreement for flexibility to quickly adapt.
This agreement covers basic chatbot deployment and configuration, featuring the Azure AI Studio and OpenAI studio. It also includes a basic chat playground with completion playground. You'll have the option to deploy a web interface or integrate a Teams chatbot, providing flexibility based on your needs.
For businesses with specific compliance requirements, rest assured that all prompts and outputs can be logged centrally for review. This ensures transparency and allows for easy monitoring.
Training is a key component of this package. We provide training for IT teams on the terminology and maintenance of the chatbot, ensuring your team has the knowledge to manage the system effectively. Additionally, end-user training on prompt engineering is included, empowering users to get the most out of the chatbot.
With this 3-month FLIGHT agreement, you'll have all the tools and support needed to successfully deploy and utilize Azure OpenAI with ChatGPT in Azure. Next, we'll go into how the FLIGHT agreement is broken down to provide the best possible outcome for your organization.
Month #1 – Development and Implementation
In the first month of the FLIGHT agreement, Finchloom's engineers will focus on deploying the infrastructure and setting up OpenAI with ChatGPT in Azure. This phase involves connecting various front and back ends and fine-tuning data to ensure optimal performance.
During this initial period, we will also demonstrate how to upload corporate documents. This will allow you to start testing out the model right away, providing immediate insights into its capabilities. This hands-on approach ensures a smooth transition and allows for immediate feedback and adjustments.
Months #2 & #3 – Developing a Business Use Case
During the second and third months of the FLIGHT agreement, the focus shifts to developing a Business Use Case. In this phase, Finchloom will collaborate closely with your organization to identify the most effective use case for leveraging OpenAI with ChatGPT in Azure.
The objective is to understand your specific needs and expectations, and to determine the level of effort and expenditure required to achieve the desired outcome. This involves a thorough analysis of your organization's processes, goals, and challenges.
By the end of this phase, we aim to have a clear roadmap for how OpenAI with ChatGPT can be integrated into your operations to deliver tangible benefits. This ensures that once the Proof of Concept (POC) is completed, we are ready to move forward with a well-defined plan tailored to your organization's needs.
Getting Started
Finchloom's new packaged service offering is a unique solution that enables organizations to host their own version of the OpenAI model in Azure. This provides enhanced control and security and unlocks new possibilities for data analysis and content generation. By choosing Finchloom's service, organizations can truly harness the power of AI in a way that best suits their needs.
For more detailed information on Azure OpenAI and Finchloom's new service offering, you can reach out directly to a Finchloom account manager. They are equipped with comprehensive resources and support to help you understand how these tools can benefit your organization and guide you through the process.
This product is soon to be available on the Microsoft marketplace. If you're interested in harnessing the power of OpenAI and implementing your own chat GPT model with your enterprise data, reach out today. Let's start imagining what AI could look like in your environment.
Learn More: Introducing Microsoft AI with Azure Open AI, Microsoft Search with Bing